ESTABLISHED IN 2011, FAMILY OWNED AND OPERATED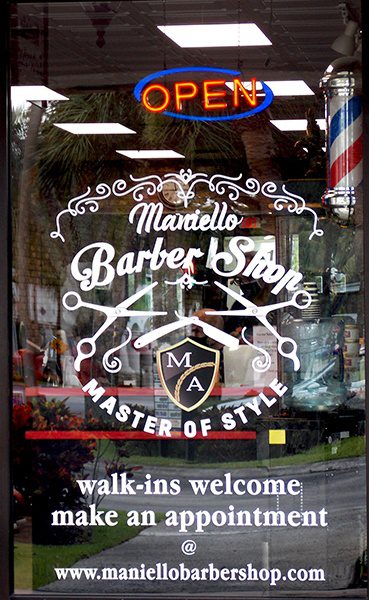 Maniello's Barber Shop is a locally and family owned business located in West Boynton Beach.  Our shop was built on the idea of creating a New York feel with a warm, welcoming and relax northern atmosphere. We are currently in our 3rd location due to our rapid growth and need to upgrade. As a matter of fact, we accept all major credit cards and are wheelchair accessible.
We invite you to join us in our clean and stress free environment. Furthermore, try our aroma therapy hot towel shave and facial, or take advantage of our competitive prices for a professional gentleman, woman, senior or child haircut or fade. Maniello's Barber Shop is not just barbers, we have stylists and hairdressers as well. We offer hair coloring, woman's perms and more.
We hope to see you soon, whether it's for your first time cut or coming back as a regular client to our old school feel with new school style.
Thank you from Maniello Barber Shop

Maniello's Barber Shop has been family owned and operated for over 9 years. From the beginning, the shop was always run by the Valentin's; John, his wife Wendy and daughter Erika. Maniello's was always created with family in mind. As a matter of fact, John's father was a barber as well and owned a shop in New Jersey. And to ensure the family tradition lives on, John's daughter Erika obtained her license as a Master Barber.
We encourage Boynton Beachers looking for a quality haircut to join our family and make an appointment.
Reviews
Maniello's take pride in delivering quality haircuts and service. Please click on the logos below to view our reviews, and if you want to leave us a review, we very much appreciate it!
Join The Team
Click Here to get in touch with us and we will contact to you to find out how you can provide our premium services to our clients.
Our Schedule Policy
We understand that sometimes schedules change. We will work with you to make adjustments and therefore request at least 24-hour notice when canceling or rescheduling your appointment.