OUR TALENTED BARBERS PAY ATTENTION TO DETAIL AND PROVIDE OUR CLIENTS WITH QUALITY WORK
Maniello Barber Shop's staff offers our clients a team of highly skilled and extremely experienced professionals who take pride in their work. In fact, our clients leave our customers looking great and feeling very satisfied with our work.

Title: Owner/Operator & Barber/Stylist
Specialties: Scissor Work
Days & Hours : Monday Through Saturday 9am – 6pm
John is a second generation licensed Barber/Stylist who decided to follow his father's footsteps who was also a barber. John has over 40 years of experience. John was born in Newark New Jersey and studied his professional skill set in Clifton New Jersey. Moved to Florida in 1988. He has a true passion for his profession he pays full attention to every detail with all his clients. Achieving nine years in business at the fountains of Boynton Beach plaza. His goal is to create an atmosphere making the client feel welcomed and relaxed also ensuring that all client's are happy.
Title: Master Barber
Instagram- Valentina_the_barber
Specialties: Hot towel shave, facials & scissor cuts
Days & Hours : Monday Through Friday 8am – 3:30pm
Currently Unavailable
Erika was born in Plantation, Florida, grew up in Boynton Beach and graduated from Salon Professional Academy in Delray Beach. Ever since becoming a barber she is very passionate about giving the customer what they want when they sit in her chair. Erika has been a master barber for 6 years specializing in superior excellence with hair color, fades, precision scissor gentlemen cuts, luxury hot towel shaves, scalp treatments and luxury facials. She has learned many different barbering skills through out the years. Her goal is to create a comfortable environment and pay close attention to detail for every client and provide a high-quality service.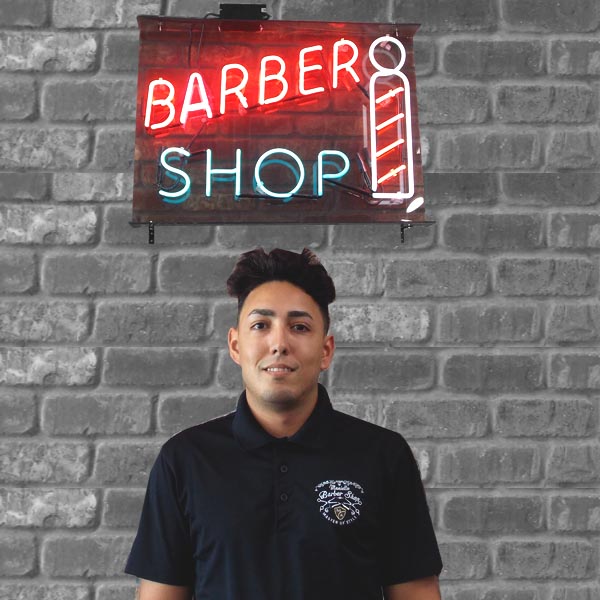 Title: Master Barber
Instagram- INKED_TO_SERVE
Facebook- Javi Mor
Specialties:Modern haircuts/shaves
Days & Hours :Tues through Sat 8:30am – 6pm
Javier Morales, from line cook to now professional licensed master barber. He has been cutting hair now for seven years. Who would've known it was a career that would change his life positively. Javier appreciates the fact that the job allows him to meet the greatest clients in the world, to give each and every person a amazing experience, and upon request a beyond spectacular transformation. Come by Maniello Barbershop where the circle is small and setting standards for others is our priority.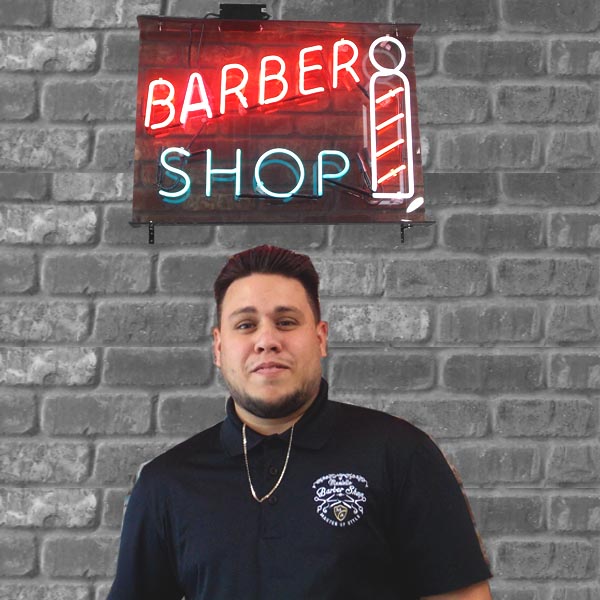 Title: Barber
Instagram- LMC_THE_BARBER
Specialties: Razor and Fades
Days & Hours : Monday, Tues, Wednesday, Friday, Saturday 8:30am – 6pm
Our barber Luis was born in South Jersey and moved here to Palm Beach County back in 2008. He has been a Barber for 7+ years. He transitioned from being an AC Technician to Barbering after finding it was best to do what he loved and that was cutting hair, so he attended a local beauty institute and achieved his dream. In his spare time, he loves to spend time with his family and friends. He specializes in all types of haircuts especially fades, shear work, hot towel shaves, facials, and scalp treatment. Come and experience for yourself, an amazing experience here at Maniello's and he looks forward to meeting you.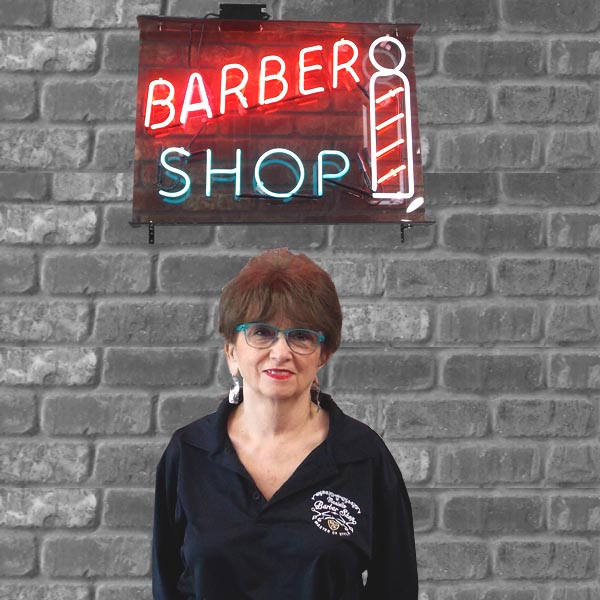 Title: Hair Dresser
Specialties: Scissor cuts, Perms, Coloring and Highlighting
Days & Hours : Tues, Thurs & Fri 9am – 4pm
Roe is a third generation barber/stylist who has worked between Florida and South Jersey for over 20 years. Working at Maniello's Barber Shop has been her favorite adventure so far – she loves building strong connections with her clients and helping them express their personalities through their appearance!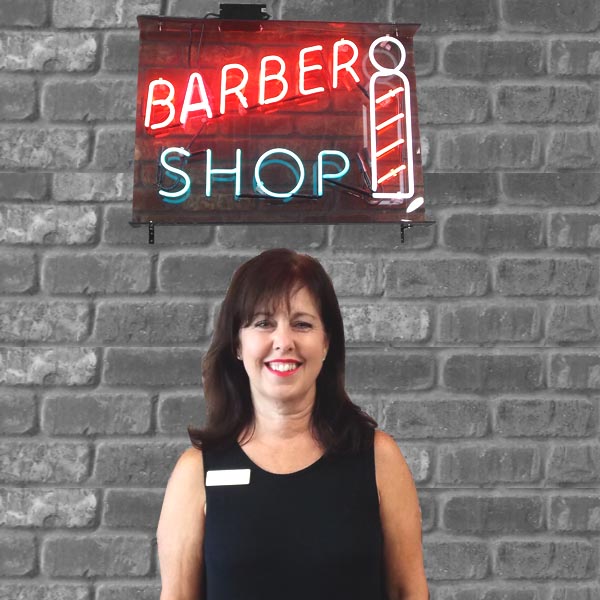 Title: Cosmetologist
Specialties: Scissor cuts, Perms, Coloring and Highlighting
Days & Hours : Mon, Tue, Thurs, Fri, Sat 9am – 5:30pm
Kathy Tindall has been a cosmetologist for 37 wonderful years. She can't tell you how much she has enjoyed making her clientele look and feel their best. Kathy has met so many wonderful people working in the salon at JC Penney in Novi, Michigan for 34 years. She has also worked in an assisted living facility salon for 21 years.
Kathy has been happily married for 34 years to her husband Bill. They have three wonderful children; Aaron, and twins Mark and Mary, as well as an adorable dog Nitro. She recently moved to Florida  and is looking forward to new adventures living here and not having to shovel any more snow.
Kathy is excited to be working at Maniello's Barbershop. She will be sure to make her new clients happy and look their best.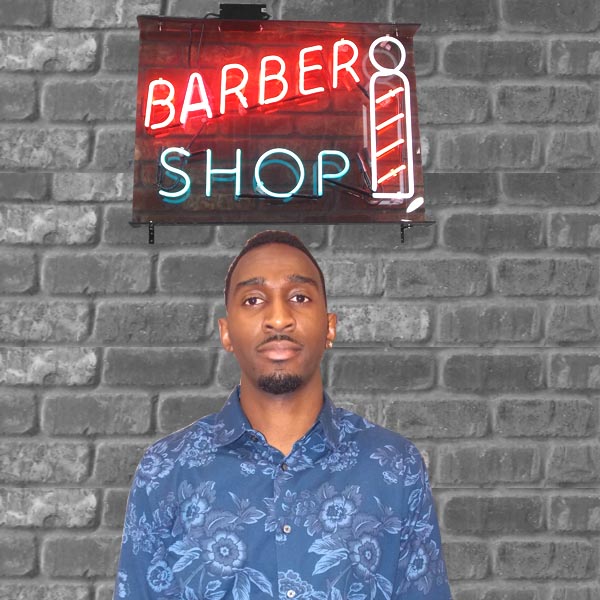 Title: Barber
Specialties: skin fades, comb overs, and hair coloring. I am Interested in doing more hot towel shaves and gentlemen cuts.
Days & Hours : Mon, Tue, Wed, Thurs, Fri, Sat 10am – 5:30pm
Michael (aka Mike fades) has been in the barbering industry for 3+ years. He has been living in the city Boynton beach for over 20 years and received his Barber License from the state of Florida.
Mike prides himself on providing a professional and friendly environment for my clientele. He consistently works on improving his skills to learn new techniques and become better at his craft.
His goal in the near future is to learn how to create custom hair pieces for each of his client's unique style.
Title: Master Barber
Specialties: Hot Towel Shave, Facials, Scissor Cuts, Skin Fades, Comb Overs, Gentlemen Cut, Modern Haircuts/Shaves, Razor Cuts, Hair Styling
Days & Hours :Monday Thru Saturday 9pm – 6pm
Carlos Ivan was born in Cuba and moved to the United States in 2014. Barbering has always been in passion of his and before moving to America he studied at a school of cosmetology in Cuba. His objective for each client is to create an atmosphere where they feel feel welcomed and relaxed. Carlos's attention to detail and positive attitude to give 100% will make any customer very happy.